Uplands Market nominated for BBC's 'Best Food Market'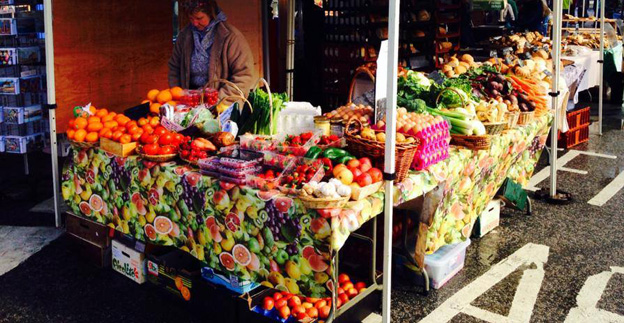 BBC Radio Wales announced yesterday that one of our projects – the hugely successful Uplands Market – has been selected as Wales' nomination for the 'Best Food Market' category at the annual BBC Food & Farming Awards.
These UK-wide awards are in their 15th year and celebrate the people and organisations in Britain who produce and sell quality food. The judging team includes UK experts on food and drink including Chef Cyrus Todiwala, Angela Hartnett, Sheila Dillon, Giorgio Locatelli, Richard Corrigan and Charlotte Smith.
Rachael Garside who presents Country Focus for BBC Radio Wales announced Uplands Market as the Welsh nominee on her early morning show on Sunday 8th February.
We led the development of Uplands Market, which was set up in June 2013 as a regeneration project to demonstrate the qualities of public space. They worked with a range of partners including local Councillors, local businesses and the Uplands community. It is now a sustainable social enterprise and features 70 stalls and attracts thousands of visitors each month. In addition to a wide array of fresh food and handmade items, shoppers can enjoy poetry and music on the Do Not Go Gentle Festival stage. It also provides opportunities for small Welsh independent traders by supporting their business in a safe and nurturing environment.
Our Director Ben Reynolds says, "We are delighted to have been nominated for this Award. The Market is so lovely – especially the social interactions in the street in what is usually a car dominated space. We have a terrific group of volunteers from the local community, tremendous support from traders, our local Councillors, local businesses, and all the people who visit each month – we think we've got something really special here."
Once the judges have selected a shortlist for each of the categories, they will visit each finalist in person. Winners will be announced at the BBC Food & Farming Awards ceremony in Bristol on Thursday 30 April.
For more information on Uplands Market as well as the successful Marina Market visit: www.uplandsmarket.com
The next Uplands Market is being held on Saturday 28th February.