Uplands Market is 10 years old!
Posted on

July 31, 2023

in News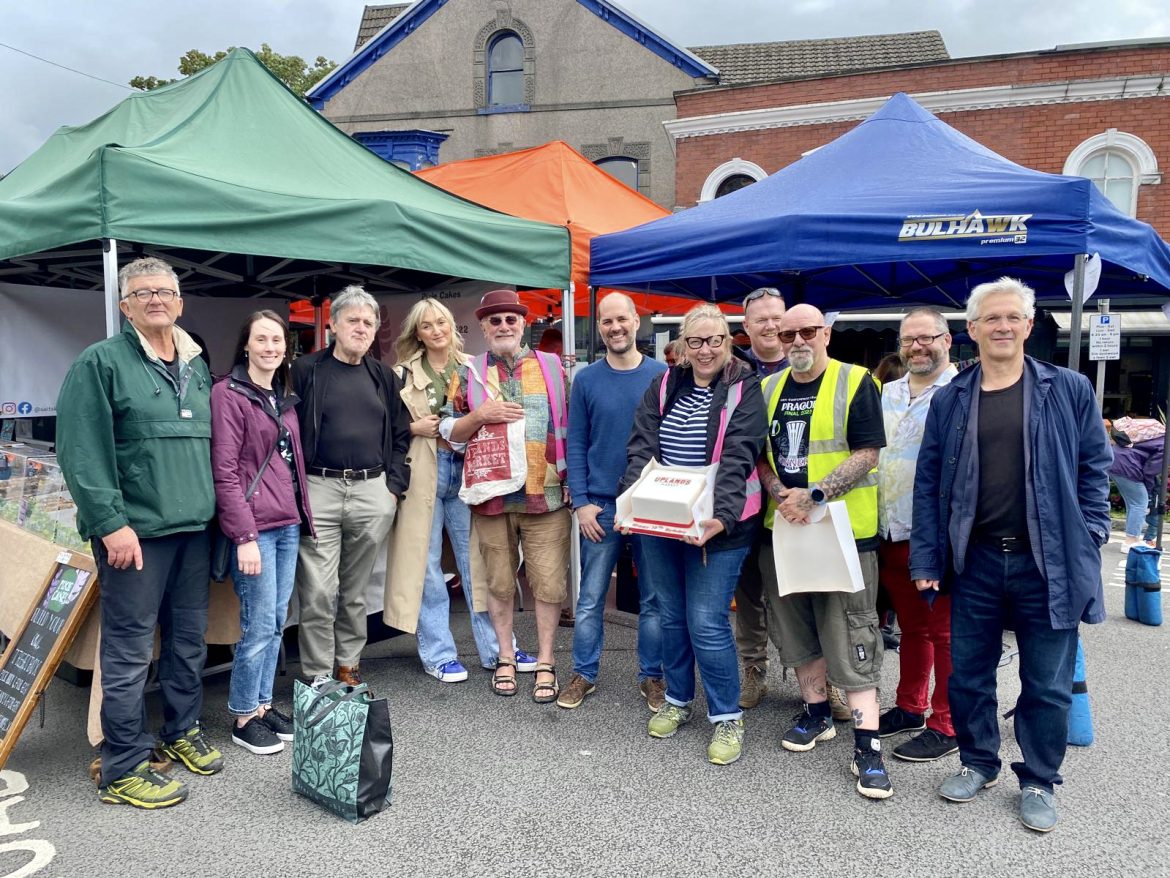 July marked the 10th birthday of Uplands Market, and we wanted to share some interesting facts about our thriving, award winning street market:
1. Uplands Market is a social enterprise.
This means that it is not driven by profit. Rather, it is motivated by a desire to make positive social change. It is managed by Urban Foundry, who are also a certified BCorp. In a nutshell, this means they use business as a force for good.
2. It has created jobs.
Three amazing Swansea residents have been hired part-time to book traders, respond to enquiries, and, most importantly, ensure that market day runs smoothly. There's a lot to do!
3. It's all local, artisan produce
All the traders at the markets are small businesses. Over half of them are from Swansea, with almost all the remainder coming from within the Swansea Bay region, keeping as much of the money spent at the markets as possible within the south west Wales economy. All the produce is directly grown or made by the sellers, creating a close connection between customers and the producers of these goods.
4. It's kind of famous.
Uplands Market has been heralded as a best practice case study in the Design Commission for Wales' Placemaking Guide 2020, and it was featured as one of the Daily Telegraph's Top 10 Street Markets in the whole of the UK. And we were awarded Highly Commended in the Swansea Life Awards. Now other organisations visit Uplands Market to see how it can be done. The Welsh Government even commissioned us to write a best practice guide on running markets, and street markets are now featured in their programme for Government, drawing strongly on our work.
5. It has multiplied across the Swansea Bay region.
Not literally, but due to the success of Uplands Market, the organisers were approached by other areas in Swansea and asked to create similar street markets there. Hello Marina Market, Mumbles Market, Port Talbot Market, and Pennard Market. But Uplands Market will always have a special place in our hearts (shhhh, don't tell the others).
6. It has developed new businesses.
It has provided a safe and supportive environment for new enterprises to launch and trade since its inception. Little Valley Bakery, Cyfle I Adeiladu, Naturally Kind Food, and Popty Pizza all used Uplands Market as a launching pad for their businesses before establishing their own shops. They've formed strong ties with Uplands' local businesses, acting as suppliers to a number of them. We've also worked with both universities in Swansea by offering student internships to help run the market. A few have even gone on to launch their own businesses there. Some of the team have been invited to give lectures and talks about Uplands Market to universities, colleges, and even the Chartered Institute of Marketing.
7. It has boosted local business.
Working with the local universities, research at the markets shows that one in every five market visitors spends between £10 and £20 in local shops. It has also attracted new people to Uplands, many of whom return to shop in the permanent stores. Some of the stores participate in the market by offering special deals on market days. Local coffee shops have even walked around offering coffee to traders.
8. Many of the original team still work at the market.
Ben Reynolds, Gordon Gibson, and Susie Johnston were all integral in setting up the market and continue to work on it today, along with Tara Tarapetian, who joined them in 2015.
9. Our traders are loyal.
Many of our traders have been with us since the beginning, such as Taste of Persia, Olives & Co, Goggi's Cuisine, More Music, Ultimate Drifter, Ruby Anne Ceramic Jewellery, Caws Teifi, Carn Edward, Achc Art, Wild & Rare, and Cuckoo Mill Farm.
10. We really love Uplands.
The team who founded the market, and our current market manager are all long-term residents of Uplands and were originally inspired to do something nice for the community. Since 2013, we've made great friends with residents, local businesses, traders, and volunteers. The feedback we get from the community is incredible, and we are always grateful for the positive vibes. We love Uplands and are looking forward to another decade of markets!
Uplands Market runs 9am – 1pm in Gwydr Square every last Saturday of the month (check for festive date changes in December). More information is available at www.swanseabaystreetmarkets.co.uk.