Swansea Student Night 2022: a collaborative success!
Posted on

October 13, 2022

in News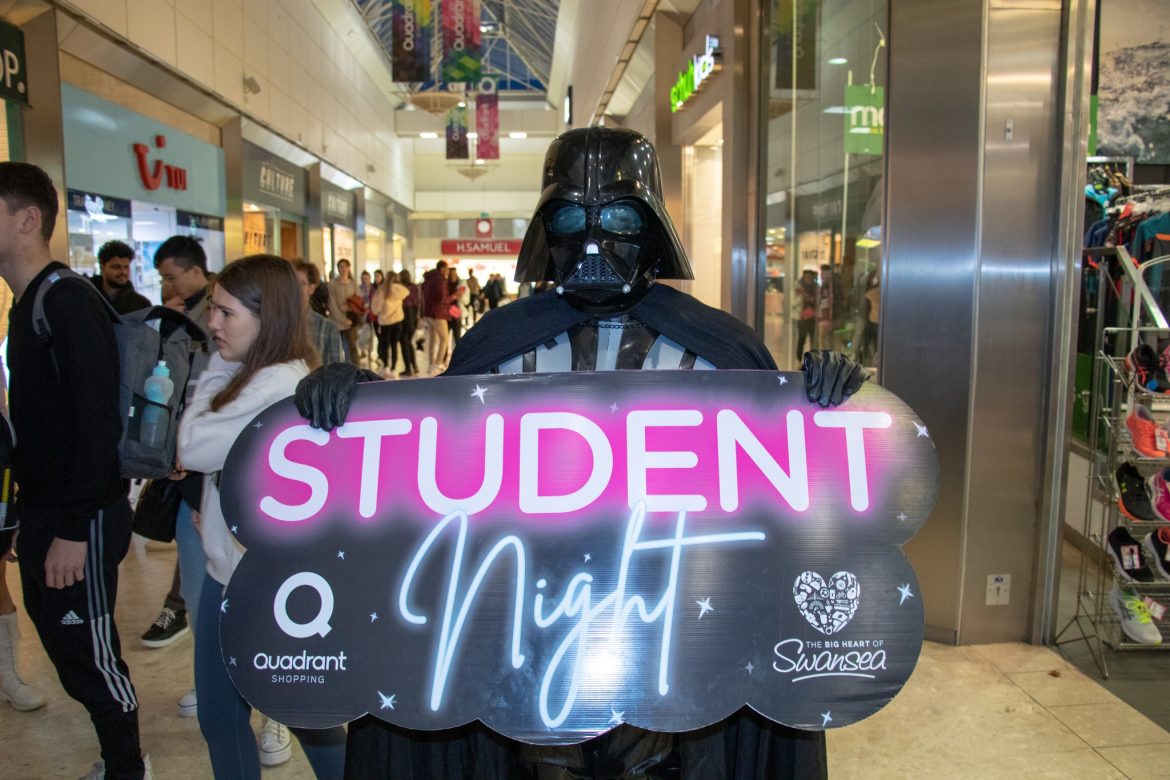 It was a real pleasure to be part of Swansea Student Night last week. Urban Foundry works with the Quadrant Shopping Centre to deliver many of their events. We're all about getting as much of the local community into the Centre, which sits at the heart of Swansea City Centre.
Obaidah Sbeitan is one of our Event Managers and she worked hard to ensure the evening was a success. Our mission was to welcome the students, show-off our City Centre and share some of the exciting events and venues we can offer them.
Obaidah said, "This was a real collaborative event and I enjoyed meeting all the businesses and working alongside the Quadrant, Swansea BID and ReThink PR & Marketing teams to deliver this event. There are so many people who work behind the scenes to make Swansea a vibrant place, and it was exciting to be part of that. There are not many events that feature Darth Vader and a giant bear – the latter was DJing…"
Lisa Hartley, Quadrant Shopping Centre Manager said, "We are very proud of the relationship we have with the student community in Swansea. Quadrant Shopping Centre has hosted many student events and pop-ups over the last few years, and we have strong links with the Universities and Colleges in the area. There has been a lot of positive feedback from last week's Student Night, and it was great to see local businesses and venues engage with the students. There's was a superb spirit of community and energy on the night – thank you to the students, businesses and organisations who made it such a success."
Russell Greenslade, Chief Executive at Swansea BID said, "Swansea BID is committed to making our City Centre an attractive place to live, work and shop. The Student Night is an important event in our calendar and the Swansea BID team worked hard with the Quadrant and Urban Foundry teams to ensure it was a success. We have a whole series of engaging events planned for the next few months and are really looking forward to the impact they will have on the culture, vibrancy, and economy of Swansea."
Click on the carousel to see some photos of the event.