PhD opportunity with Swansea University & Urban Foundry
Posted on

December 19, 2022

in News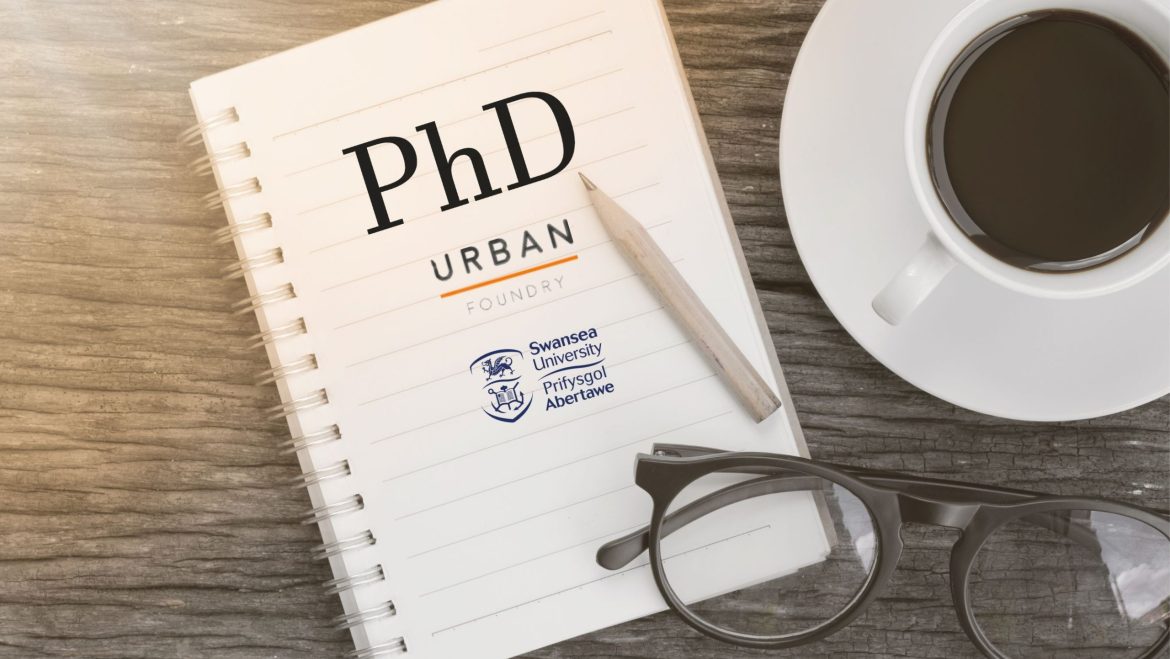 ESRC Wales DTP Collaborative PhD studentship – Urban Acupuncture in South Wales: Pinprick Solutions for Urban Regeneration?
Swansea University's Department of Geography, supported by the ESRC Doctoral Training Partnership for Wales (Wales DTP), invites applications for a funded collaborative PhD studentship in the Human Geography pathway, involving close liaison with Urban Foundry Ltd., a creative urban regeneration company based in Swansea throughout all the stages of the research project. It will commence in October 2023. The working title of the PhD project is "Urban Acupuncture in South Wales: Pinprick Solutions for Urban Regeneration?" and the successful candidate will be supervised by Dr Richard Smith and Dr Kevin Rees in the Department of Geography, and Dr Ben Reynolds the Director at Urban Foundry Ltd.
This collaborative PhD studentship will place you at the fulcrum of critical theoretical and practical debates which have grown and intensified in recent years over: urban regeneration, pop-up/tactical/temporary urbanism, creative/art initiatives, urban acupuncture, and the validity of small-scale interventions in regenerating cities worldwide. Placing you at the heart of a creative urban regeneration practice in Swansea – Urban Foundry Ltd – is timely because the role and impact of micro-initiatives for regeneration, quality of life, and enlivenment in the cities of South Wales and elsewhere increasingly matters as an affordable and achievable tool for urban vitality.
The PhD research project will survey the types of, and critically assess the impact of, small-scale urban regeneration strategies and practices in Swansea and other cities across South Wales – in Neath, Haverfordwest, Carmarthen, Port Talbot, Bridgend, Cardiff, Newport – to ascertain the limits and problems with extant initiatives and consequently suggest new initiatives and approaches, drawing on examples from cities around the world for transforming the cities of South Wales. In addition to developing expertise in urban theories and critical debates in urban economic and cultural regeneration, you will gain invaluable experience in networking, interviewing, focus groups, qualitative data analysis, as well as more practical skills related to urban regeneration and urban cultural-economic policy analysis and its application.
The Department of Geography at Swansea University has one of the largest groupings of geographers in Wales, and the REF 2022 panel judged that 90% of research in the Department was either world-leading or internationally excellent; and that 100% of our research environment was rated as world leading and internationally excellent. A key internationally recognized strength of the Department is its research on Social Theory and Urban Space, an expertise which is extended by the Department's leadership of the University's Centre for Urban Theory (CUT) co-directed by Dr Richard Smith and Professor Marcus Doel.
Applications are invited from candidates with a first class or strong upper second-class honours degree, or appropriate Master's degree. Both the University and the ESRC Wales DTP value diversity and equality at all levels and we encourage applications from all sections of the community, irrespective of age, disability, sex, gender identity, marital or civil partnership status, pregnancy or maternity, race, religion or belief and sexual orientation.  In line with our commitment to supporting and promoting equality, diversity and inclusion, and to increase recruitment of currently underrepresented groups, applications from Black British, Asian British, and other minority ethnic British are particularly encouraged and welcomed.
We welcome applications for both full and part-time study, and studentships are available as either '1+3' (i.e. one full time year of research training Masters followed by three years of full-time Doctoral study, or the part-time equivalent), or '+3' (i.e. three years of full-time doctoral study or its part-time equivalent), depending on the needs of the applicant.
You can view the advert here: https://www.swansea.ac.uk/postgraduate/scholarships/research/human-geography-esrc-dtp-phd-collaborative-call-2023-rs255.php
Application deadline: 3 February 2023 (12:00pm GMT).
Further details about the studentship, project and application process are available from the lead supervisor Dr Richard Smith r.g.smith@swan.ac.uk from January 3rd onwards.