Natural Resources Wales, Swansea Council & Urban Foundry unite on a green mission
Posted on

October 27, 2022

in News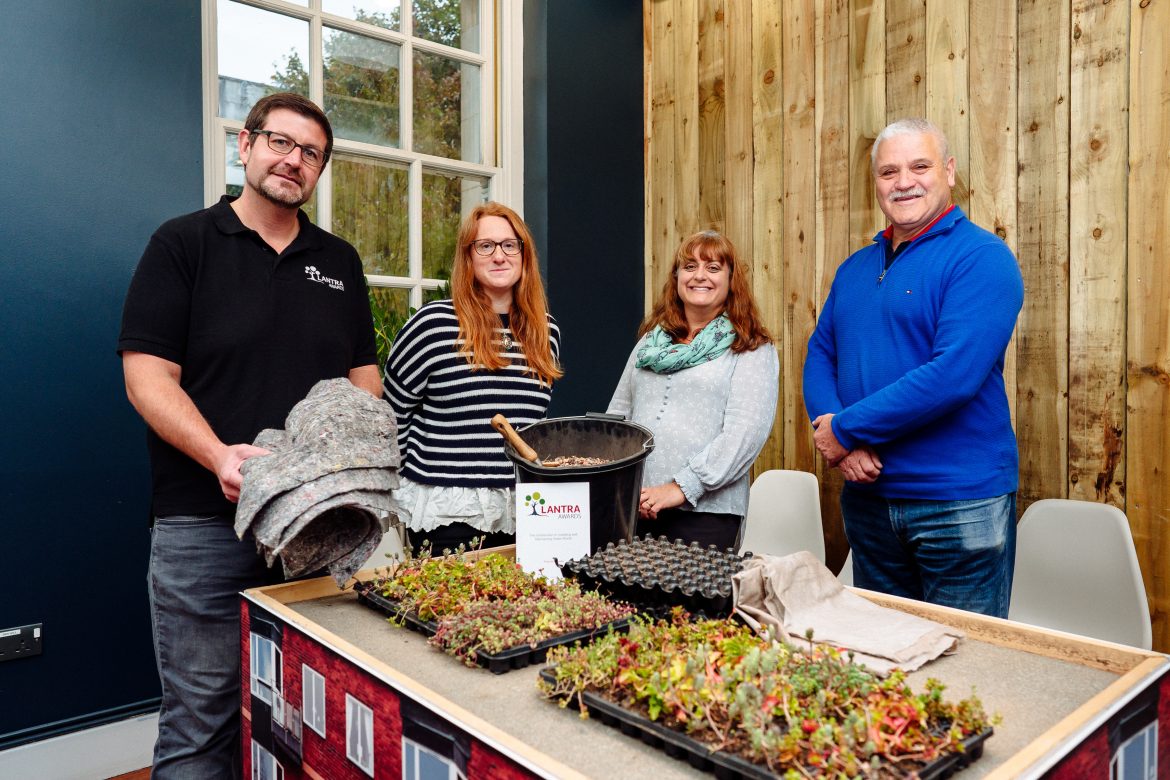 To read this page in Welsh, please click HERE
Why is Green Infrastructure needed?
Green spaces don't just increase health and wellbeing, they also have an economic benefit to local businesses. Right now, there is a whole new business sector being created that delivers high quality urban greening both commercially and socially.
For many years, Urban Foundry has worked with Natural Resources Wales on collaborative projects that seek to increase the awareness and adoption of Green Infrastructure (GI) across our towns and cities.
There is still a lack of awareness in the Swansea Bay region about what GI is and crucially, a lack of skills to increase the use of GI amongst the commercial sector. More work needs to be done to help local businesses realise the enormous benefits of GI. Currently, suppliers such as landscape gardeners, urban designers, and corporate maintenance organisations do not have the knowledge or tools to tap into the GI market and grow their business. There is an abundance of specialist suppliers offering GI services in the UK, yet they tend to emerge in corporate clusters in big cities, such as London.
A powerful collaboration to empower local providers
Following a successful application to the UK Government Community Renewal Fund, Natural Resources Wales partnered with Swansea Council and Urban Foundry to provide a brilliant opportunity for upskilling local businesses and the local workforce including landscapers, gardeners, building and maintenance businesses in the Swansea area.
Together we devised a series of excellent training courses for local green providers and businesses – all led by experts, and thanks to the funding, at no cost to the participants.
What opportunities are on offer?
Since the project launched in September, we have delivered some fantastic workshops led by experts in their field. There have been sessions offered on Living Walls (Gary Grant) and Green Roofs (Chris Bridgman). The next few weeks will see further workshops covering Rain Planters (Wendy Allen), Trees (with Gary Grant, Jonathon Price & Nick Timlin), Sustainable Drainage Systems (Bob Bray) and Nurturing Nature (John Little).
The sessions are mainly practical and hands on, with some sessions even going offsite to plant trees or build rain planters.
The project team share their thoughts:
Dr Ben Reynolds, Director, Urban Foundry:
"We're really pleased with how popular these workshops have been. Nearly every single one has reached full capacity with waiting lists. This project is the beginnings of efforts to create a local supply chain for delivering and maintaining green infrastructure – there's a goldmine of untapped potential right here, in our local area. The aim is to educate, train, and empower local suppliers with new skills and qualifications to offer this as a service. The more we build capacity locally, the more local businesses and the environment will benefit as we move towards more nature-based solutions in urban regeneration."
Penny Gruffydd, Sustainable Policy Officer, Swansea Council:
"I am really pleased with the range of businesses who have attended the sessions to date. We have a wealth of talent and expertise in Swansea, and I am pleased that we are able to offer businesses the chance to learn from leading GI experts from across the UK and the opportunity to create a local GI industry for Swansea."
Fran Rolfe, Senior Green Infrastructure Officer, Natural Resources Wales:
"This project is all about how we can increase urban greening across the Swansea Bay area in a sustainable way. We're genuinely pleased with the positive response to the workshops. Feedback is telling us that there is a real need for this, and these workshops allow us to build up the expertise and skills within the local area. The team are hoping that everyone who attends the workshops come away with a good foundation to really build a business sector around delivering exceptional urban greening for people and nature."
To find out about future courses, please visit:
https://www.urbanfoundry.co.uk/from-green-roofs-to-living-walls-fully-funded-training/
Or, contact ideas@urbanfoundry.co.uk for more information.
Seminars and workshops are funded by the UK Government through the Community Renewal Fund. Managed and delivered by Natural Resources Wales, Swansea Council and Urban Foundry.