Pontardawe Market launch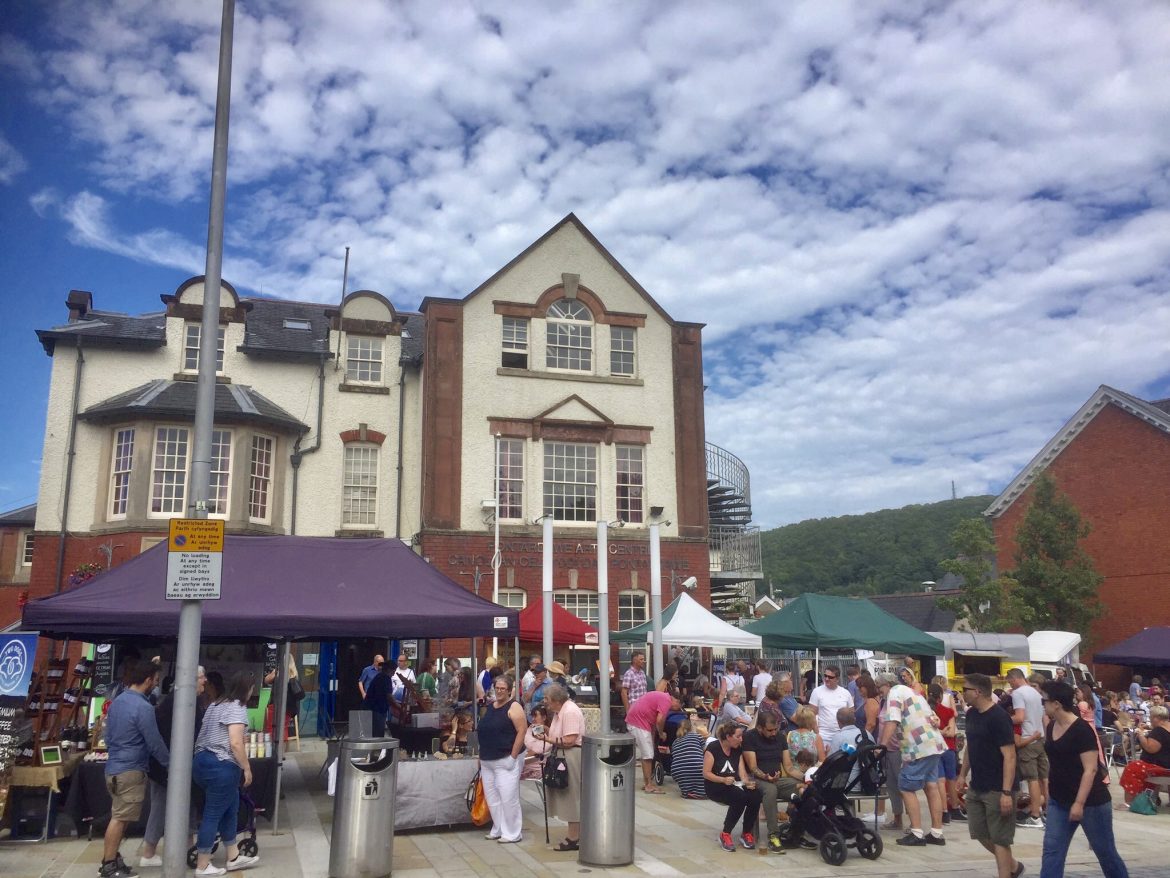 Our first Pontardawe Market was held in Herbert Street on Friday. It was an overwhelming success with hundreds of shoppers sampling the delights of fresh Welsh produce, hot street food and crafts. Our Swansea Hub Music Stage hosted live music from Jacob Howells.
The market was located next to Pontardawe Arts Centre who opened their bar for the duration of the event. Angie Dickinson, Area Artistic Manager at Pontardawe Arts Centre said:
"Who amongst us doesn't love to eat good food, browse through interesting crafts and artisan products and gather together with friends?  Well the people of Pontardawe certainly do. It was brilliant to see so many people supporting the market and enjoying being together as a community.  All enabled by the excellent work of Urban Foundry. I for one hope that this pilot project will show the demand for a permanent monthly market."
Local businesses offered their support and many extended their opening hours. Clothing store Nifty & Co in Herbert Street held their regular Summer ladies shopping night on 5thJuly and enjoyed the extra buzz about town whilst the market was there. Zoe Colston from Nifty & Co said:
"The deli food choice was excellent and was a great addition to what we have in Pontardawe. We will endeavour to remain open during the market dates and times and welcome all support from stallholders and visitors alike in spreading the word about Pontardawe. Thanks and looking forward to August 2nd."
Emma Charlo, Manager of Charlo's Fish & Chip Shop said; "We at Charlo's always love to see events coming to Pontardawe – especially Herbert Street. We as a community need to make use of our fantastic Pontardawe Arts Centre and support any events in order to keep it open. Pontardawe Market was a great success and I hope it gave people the opportunity to also visit the fantastic businesses in Pontardawe whilst sampling the delights that the market had to offer. All our customers who attended have given great feedback on the market and we all look forward to the next one"
Market traders were thrilled with the response to the first market with many selling out by the end. Market regular Goggi's Cuisine said:
"It was a wonderful market, the best in and around Swansea so far. The credit goes to Urban Foundry for organising it and to the people of Pontardawe for coming out and supporting it, for without them it would not have been possible. They turned a farmers' market into a food festival."
The launch of the monthly Pontardawe Market adds to our street market collection of Uplands Market, Marina Market and Mumbles Market.
If you are interested in trading at Pontardawe Market, visit: www.uplandsmarket.com for information about pitches. The next market is 2ndAugust, 4pm – 8pm.