Students, Shopping and DJs: Swansea Student Night at Quadrant Shopping Centre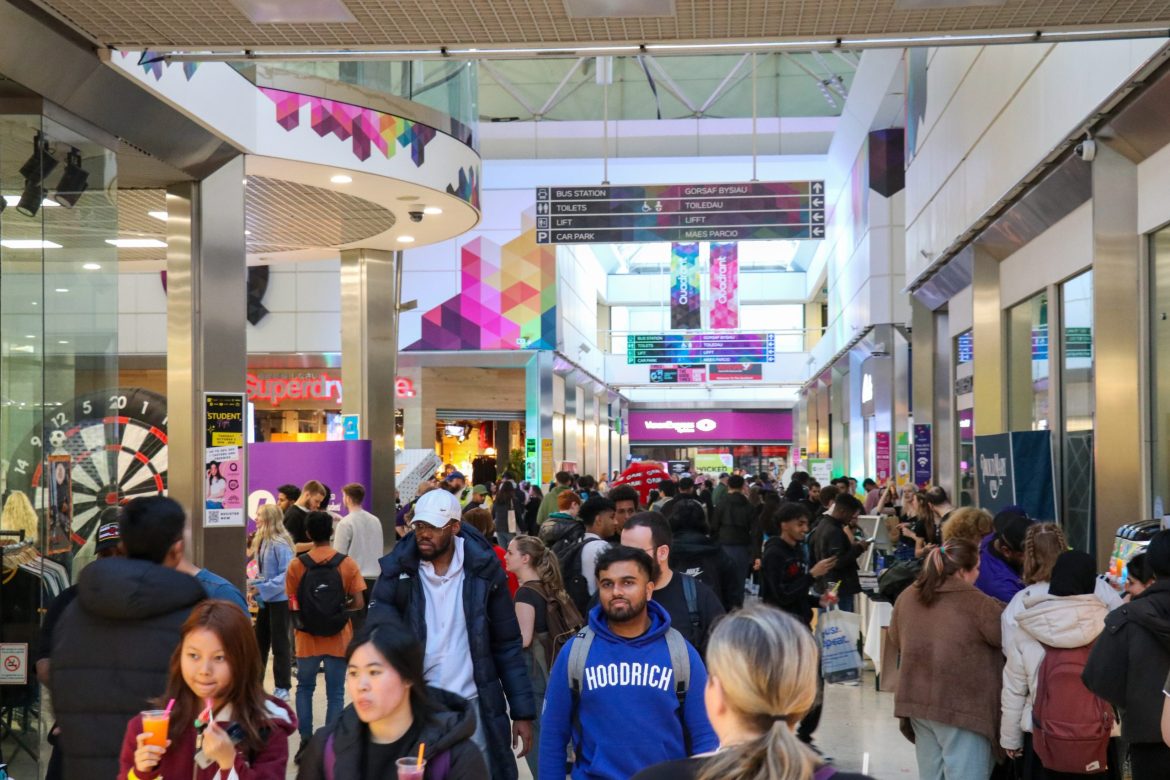 Last week, Swansea's Quadrant Shopping Centre became a hub of student activity at an event organised to welcome students back to the City Centre.
The evening was jam-packed with discounts, freebies, interactive experiences and more. Not just in the Quadrant but also in Swansea Market, where they also joined in the fun.
Big increase in attendance
The night's success was the result of a collaborative effort, involving Quadrant Shopping Centre, Swansea BID, Swansea Council, reTHINK PR & Marketing and Urban Foundry.
Urban Foundry's Obaidah Sbeitan was the Event Manager, coordinating both the businesses and venues as well as handling the day and evening logistics and outreach activities at Freshers Fairs, with reTHINK PR & Marketing promoting and marketing the event.
The combined efforts resulted in a big increase in attendance from last year. Compared to 2022, this year saw a near 20% increase in student registrations for the event – 2,926, up from 2,502 last year. The increase in attendance illustrates the event's growing popularity and the successful efforts of everyone involved.
A collaborative effort
Obaidah Sbeitan, played a key role in making Swansea Student Night a resounding success:
"I was the Event Manager for the Student Night. reTHINK PR & Marketing handled the marketing, and my focus was on space activation and bringing businesses into the event. I also event managed the entire experience on the day, alongside a superb promo team."
Plan B, Bambu, and Sin City added to the party atmosphere with their DJs, whilst Popworld livened up the centre of Swansea Market with DJs and dancers. UWTSD's Student Union added to the excitement with an inflatable darts competition.
Urban Foundry's HQ Urban Kitchen venue also took part, offering their homemade cakes and ethical coffee to students. They talked to students about HQ's focus on sustainable practices and responsible sourcing. As the venue is located next to Swansea College of Art at UWTSD, they ran a student competition to win a big breakfast.
Effective planning and promotion
Obaidah credits the event's massive turnout to an excellent promotional campaign:
"reTHINK PR & Marketing managed the advertising partnerships with Swansea University, UWTSD and Gower College, which included Freshers' Fairs. I went along with our promo team and registered students on the spot, generating immediate interest. The team also delivered a bold advertising campaign across TikTok, Instagram and through city-centre partner advertising."
Positive feedback
With retail outlets and venues offering discounts of up to 30%, it's no wonder businesses reported their busiest student event yet.
"Students were leaving with bags full of purchases, clearly having taken advantage of the amazing offers," Obaidah said.
Urban Foundry's commitment to quality and meaningful space activation
Urban Foundry is committed to the regeneration of Swansea City Centre through quality events such as this one and other initiatives like PopUp Wales. The goal is to activate spaces in a way that enhances the overall experience and attracts new audiences.
"The atmosphere was electric and a real glow-up from last year. Huge thank you to the Quadrant security team, the cleaning staff, and the promo team as they were all exceptional. The music, the dancing, the sheer energy—it was all spectacular," Obaidah concluded.
The verdict
It was a resounding win for everyone involved.
Lisa Hartley, Quadrant Shopping Centre Manager said:
"We have had so much positive feedback from last week's Student Night, and it was great to see local businesses and venues engage with the students. It was our busiest student event to date so thank you to the students, businesses and venues who made it such a success."
Russell Greenslade, Chief Executive at Swansea BID said, "The Student Shopping Night is a key event in our calendar and the Swansea BID team worked hard with the Quadrant and Swansea Market to ensure it was a success. The students are an important part of the City Centre, and we are really looking forward to the impact they will have on the culture, vibrancy, and economy of Swansea City Centre."
To talk to Urban Foundry about event management, space activation or our wider regeneration work, send us an email to ideas@urbanfoundry.co.uk