Sell-out success for our gruesome walks in Swansea!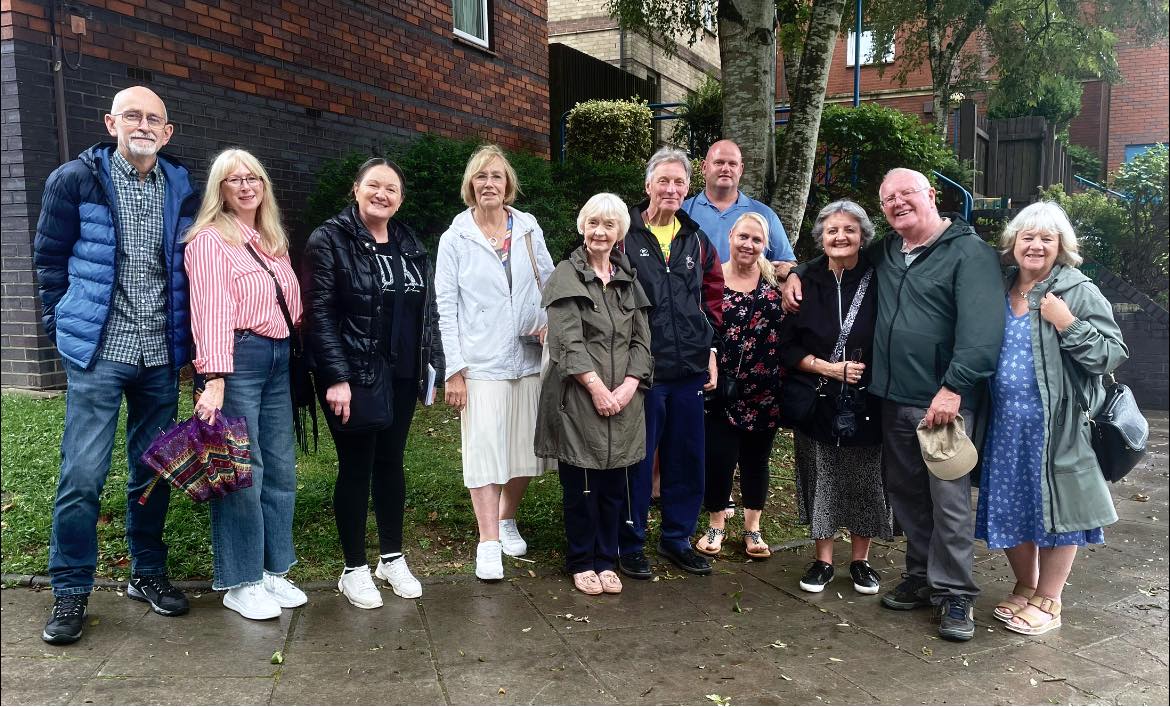 The streets of Swansea have long held mysteries and tales that have been passed down through the generations. Earlier this year, Urban Foundry tapped into this rich history with our 'Swansea in Gloom' walks. Six months later, they're fast gaining popularity as an alternative activity for people to take part in.
What happens in our walks?
Taking residents and visitors through a journey of the City's dark past, the 90-minute walks are both spine-chilling and informative. Under the guidance of Chief Storyteller and Swansea local, Jamie White, participants are treated to tales of murder, superstitions, ghosts, and even the occasional shocking debauchery.
These tours aren't just about the gory details though. They offer a unique perspective on the very buildings and locations people often walk past, shedding light on a side of Swansea's history that many may not be familiar with.
Helping a local charity
True to its community-centric vision, the 'Swansea in Gloom' walk is non-profit and a portion of the proceeds from each tour goes to Matt's Café, a charity of significant historical value that offers support to those in need.
Hear from the organisers
Jamie White, Chief Storyteller said, "Taking these tours is such a great experience. We've had a wide range of visitors ranging from foreign tourists to long-time residents of Swansea. It's always interesting seeing people's reactions when we point out something that they might have walked past hundreds of times without noticing."
Gareth Willis-Falco from Urban Foundry, one of the organisers, said, "We're thrilled with the growing popularity of our walks. Besides individual participants, numerous businesses and organisations have been signing up, prompting us to schedule additional dates. These tours offer a brilliant and meaningful way for people to connect with local architecture and history. We're also considering introducing walks with some new themes – so stay tuned!"
Private and group bookings
'Swansea in Gloom' also offers the option of private bookings for groups, making it an ideal choice for both businesses and private events. Whether you're aiming for team building within your company or planning a special outing for a group, this walk offers a unique and engaging experience.
Feedback about the Swansea in Gloom walks
Several groups, including Swansea Ageing Well, Swansea Carers Centre, and Gower College, have vouched for its brilliance.
"Excellent talk by Jamie on the history and local characters of Swansea, many of whom were quite colourful! We thoroughly enjoyed it and are eagerly waiting for more. Thanks!"

"Had an amazing time today exploring a part of Swansea. Highly recommend this tour – it's a mix of humour, gore, and heaps of information. Jamie's knowledge is commendable."

"Thoroughly enjoyed the tour this morning. It's always wonderful to learn something new about your own city. A big shout-out to Jamie for keeping us engaged."

"The tour was brilliant! Both informative and engaging. Thanks for such an experience!"
Booking details
Don't miss out on the opportunity to experience the city in a way you've never seen before. Halloween is nearly booked up already!
To reserve a place, visit https://www.eventbrite.co.uk/e/swansea-in-gloom-walking-tours-tickets-551506028377
For group and private bookings, please email ideas@urbanfoundry.co.uk
They start and end at HQ Urban Kitchen – another Urban Foundry initiative and conveniently located in the old police station on Alexandra Road.
The walking tour is designed for individuals 15 years and older. Minors under 18 should be accompanied by an adult. Please be advised, some aspects of the tour might be distressing for some participants.
Photo of Gareth & Jamie by Serena Killen, Urban Foundry's student intern from UWTSD.