Obaidah inspires students at new Travel & Tourism Conference & Careers Fair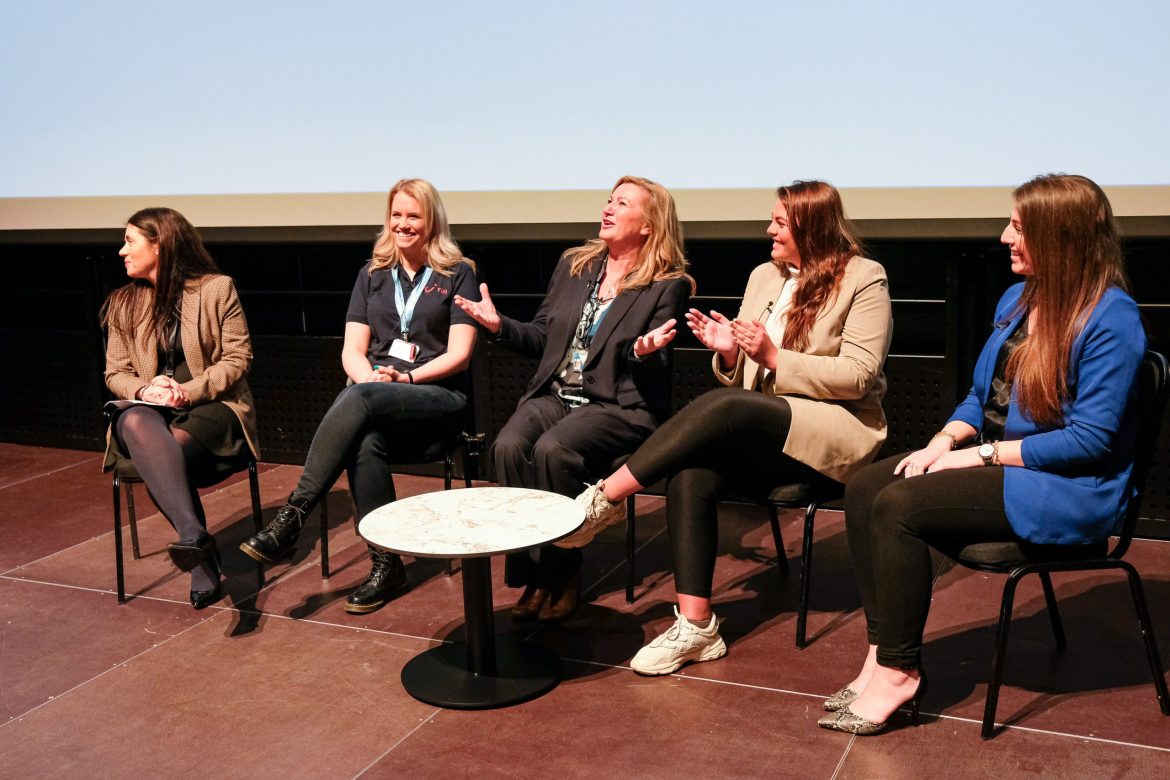 On March 14th, Urban Foundry's Obaidah Sbeitan was a guest speaker at the first Institute of Travel and Tourism's Future You Conference and Careers Fair in Swansea. Attended by local students and businesses, the event was hosted by the University of Wales Trinity Saint David (UWTSD) and supported by the ABTA and the Institute of Hospitality Cymru, as well as the wider industry. It was held in Swansea Arena and had over 645 registered delegates.
Journey to success
Obaidah studied Event Management at UWTSD and later pursued an MBA. She joined Urban Foundry through UWTSD's internship scheme and impressed the team so much that she stayed on. Obaidah is known for her skills in organising the Swansea Bay Street Markets and managing pop-up events for clients such as Quadrant Shopping Centre. She also organised "The Haunted Castle Experience at Oystermouth" for Friends of Oystermouth Castle and Swansea Council.
About the conference
The Future You conference was a fast-paced and interactive event, featuring a range of speakers and video links from across the globe. Obaidah was one of UWTSD's alumni who shared their experiences. With a strong focus on cruise tourism, the event was organised by a small team of UWTSD International Travel & Tourism and Events Management students in collaboration with Institute of Travel and Tourism and industry support.
Inspiring the next generation of leaders
Obaidah's story serves as an inspiration to the next generation of leaders and managers. Her dedication, hard work, and commitment to the industry have enabled her to achieve success and make a positive impact in her community. As the travel and tourism sector continues to grow and evolve, events like the Future You conference will play a critical role in providing young people with the skills and knowledge they need to succeed in this dynamic industry.
With inspiring speakers like Obaidah sharing their experiences and insights, attendees have gained valuable knowledge and skills that will help them succeed in the industry.
Words from UWTSD:
Jacqui Jones, Senior Lecturer, Tourism and Events at UWTSD said, "It was wonderful to have Obaidah on the Expert Panel for this exciting event as she is one of our superstar Events graduates. She was the ideal person to share her career success story in order to encourage the next generation of Travel, Tourism and Events professionals to follow in her footsteps. Obaidah has worked closely with our Tourism and Events students during the past academic year as part of their operations management module but also providing them with the opportunities to volunteer and undertake projects with Urban Foundry to help further develop their professional industry skills."
Words from Obaidah:
Obaidah Sbeitan, Event Manager at Urban Foundry said, "During the conference, I had the opportunity to share my journey from studying Event Management to joining the team at Urban Foundry. I also discussed some of the exciting projects that I'm working on and how students can get involved as volunteers. As a guest speaker, I felt proud and honoured to share my experiences and insights with the attendees. Helping other students is a passion of mine, and being in their shoes before, I understand the value of support and guidance. It was a delightful experience to give back to the educational environment that has given me so much."
Words from Urban Foundry:
Tara Tarapetian, Director at Urban Foundry said, "Obaidah is an absolute rockstar at Urban Foundry, and we couldn't be more thrilled with her success. It's amazing to see her sharing her wealth of experience with so many bright and eager students. The UWTSD students who organised this event are seriously impressive, and it's a testament to the brilliant hands-on education they're receiving. At Urban Foundry, we understand the importance of fostering talent like Obaidah, who plays a vital role in delivering unforgettable events for our clients and the broader community. We're incredibly proud of her."
If you're interested in Urban Foundry's Academy programme (internships for talented students), please contact us ideas@urbanfoundry.co.uk