Happy 4th birthday Uplands Market
Posted on

July 31, 2017

in Arts and culture, Business development, Community, Conscious companies, Creative business, Enterprise, Event management, News, Social business, Social enterprise, Sustainability, Urban Design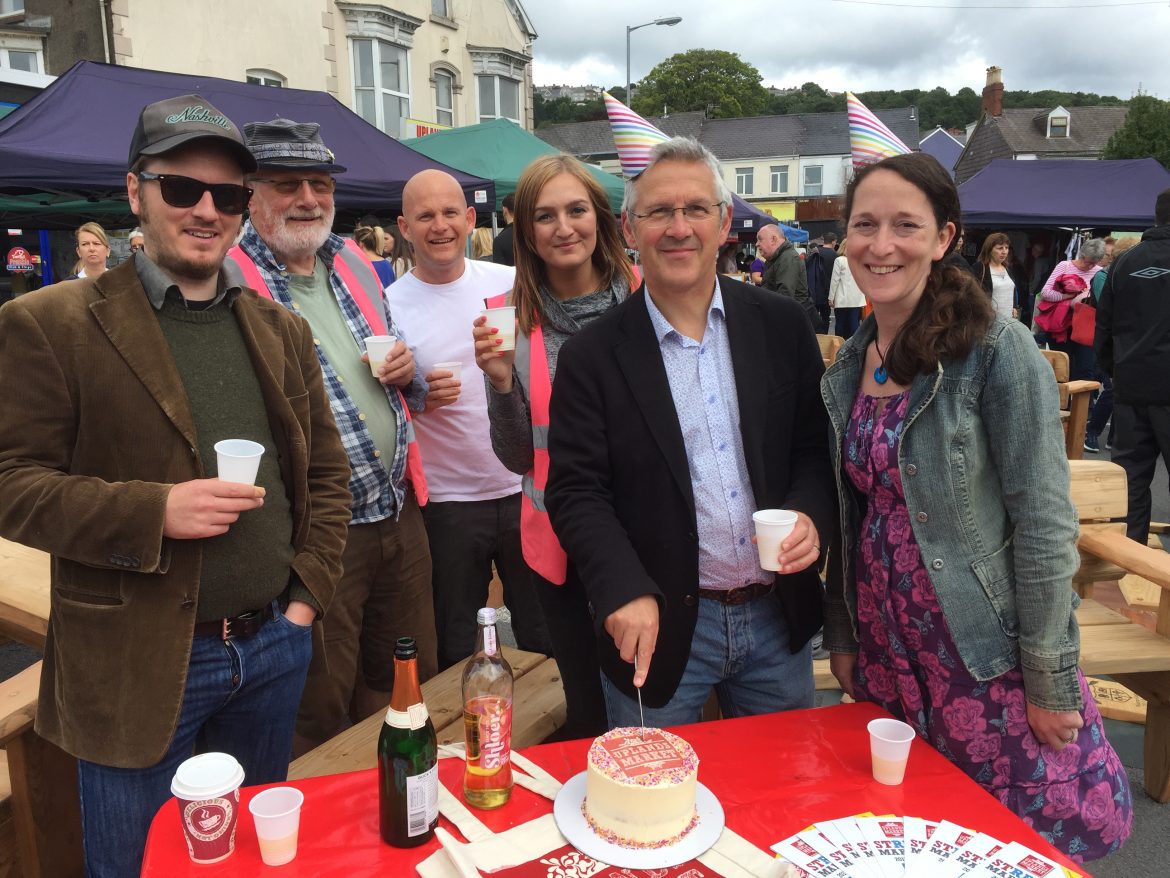 The sun was shining at Uplands Market on Saturday 29th July as it celebrated its fourth birthday. The vibrant market launched in 2013 and since then has evolved into a popular event with thousands of people visiting each month. With over 74 stalls offering farm fresh vegetables, meat, eggs, street food, crafts, cakes and ales, it's one of the largest regular markets in Wales and was recognised by the Telegraph as one of the top 10 street markets in the UK, appearing alongside such iconic locations as Borough Market in London. It has also been recognised in the Observer Food Monthly awards and was the Welsh nominee for best market in the BBC Food and Farming Awards.
In addition to produce and crafts, you can also meet local Councillors who run a monthly advice surgery or browse vintage books on the famous Dylan's Mobile Bookstore – a converted bus. Social enterprise Cyfle i Dyfu teach traditional carpentry skills to disadvantaged young people and sell their products (beautiful handcrafted benches and artisan wooden items) at the market and our Last Clothing project, which has been developed through our Academy with local students, selling eco-clothing featuring designs from Welsh artists.
We set up the market with support from local Councillors, local businesses and the community, several of whom have been faithful and hugely important volunteers and make it the success it is each month. Our intention was for Uplands Market to be more than just a shopping experience. We worked hard to design a market that demonstrated the qualities of public space – transforming what is usually a car dominated area, into people space. We wanted to create a great user experience and we're really pleased we've achieved that with Uplands Market – its a place to meet friends, listen to live music and have access to award winning food and products direct from the producers and makers, supporting Welsh businesses and doing our bit to reduce food miles in the process. Sustainability is at the heart of everything we do and by setting Uplands Market up as a social enterprise, we were aiming in part to demonstrate that we can practice what we preach. It has created a full time job for a local graduate and seen a number of businesses grow as they've brought their produce to wider audiences.
Uplands Market also features the Do Not Go Gentle Festival stage, where local singers, poets and bands perform to the crowds. On Saturday talented Swansea pianist Ify Iwobi and her band took to the stage. A musician since the age of seven, she recently won the Young Musician Award for Black History Month. Uplands Poetry Collective also shared some of their powerful poetry.
Councillor Nick Davies who was one of the original founders of Uplands Market said, "I was honoured to cut the cake at Uplands Market's fourth birthday party. Having supported the market from the start I am delighted that it has become such a successful community event: Uplands at its best."
Spurred by the success of Uplands, we subsequently set up Marina Market (turning 3 years old in August 2017), and Morriston Market, which recently marked its first birthday. We have also set up the hugely popular monthly Street Food Fridays at Unit Nineteen – another of our projects creating a temporary use for an empty night club in Swansea city centre.
Uplands Market takes place on the last Saturday of the month except in December when we go a bit earlier to squeeze it in before Christmas. You can check on dates, find the social media links and find out about all the markets by visiting www.uplandsmarket.com