Street Food Friday @UnitNineteen brings in the crowds
Posted on

May 15, 2017

in Arts and culture, Creative business, Enterprise, Event management, Meanwhile space, News, Place promotion, Pop-ups, Social enterprise, Sustainability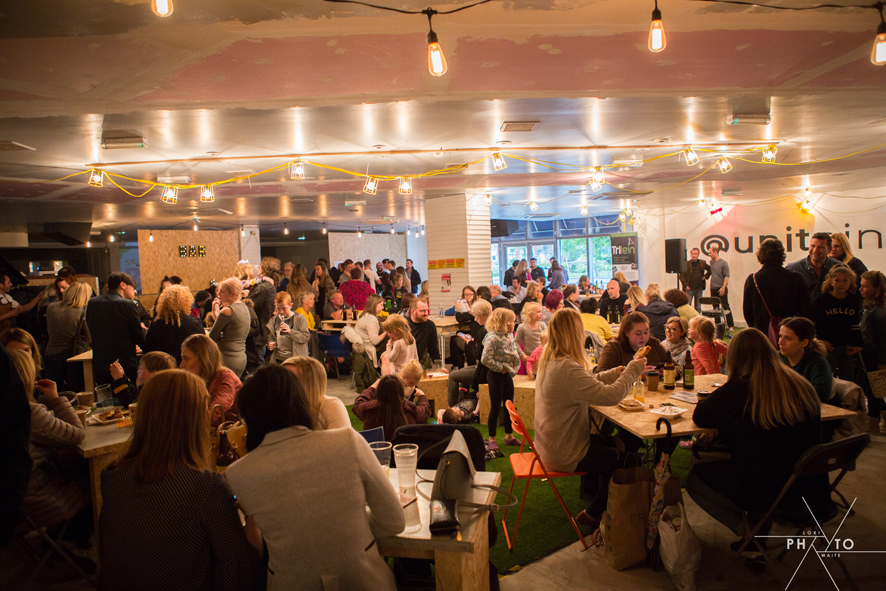 We have taken over a venue in Little Wind Street, Swansea for a few months with the aim of creating an early evening offer in Swansea's city centre and something that's a bit different, catering to a broad demographic, and focused on family friendly fare – it's called Unit Nineteen.
Unit Nineteen is a new pop-up space and we have been/will be using it for street food events, live music, exhibitions, talks, workshops and performances. It's also a venue that can be hired by other people and organisations to turn their own ideas into reality.
The first event was our Street Food Friday initiative, launched @UnitNineteen on April 7th – if we do say so ourselves it was an overwhelming success, with hundreds of visitors coming along who were offered an array of great street food (including gluten free and vegan fare) alongside a pop-up bottle bar and live music. It was exactly what we'd aimed for – people coming after work, people bringing their families and a lovely feel that was compared to a festival kind of feel. Precisely what we were after.
We create projects that have a regenerative and positive impact on people and places. The thinking behind Unit Nineteen is to demonstrate an alternative use for an empty nightclub and contribute to a more sustainable and prosperous Swansea. Sustainability is at the heart of the venture – even the furniture has been upcycled from old pieces of wood, pallets and spools. The event is undercover and it has been timed so it attracts the after-work crowd and families.
Since the success of our first event, we've hosted an exhibition of work from UWTSD students who created a gallery of their work, on which they were assessed by their tutors as part of their finals. At the time of writing we've also just held our second, and even more successful Street Food Friday event, attracting the same lovely mix of people, in even greater numbers, and keeping the same successful format and feel.
The next Street Food Friday takes place on June 9th. Check the Unit Nineteen website to keep an eye on what's coming up:
www.unitnineteen.co.uk
You can also find Unit Nineteen on social media: www.Facebook/unitnineteen & @unitnineteen on Twitter.
The project is kindly supported by City & County of Swansea, Swansea BID and Natural Resources Wales.