POST-COVID MANIFESTO #3 – GI-go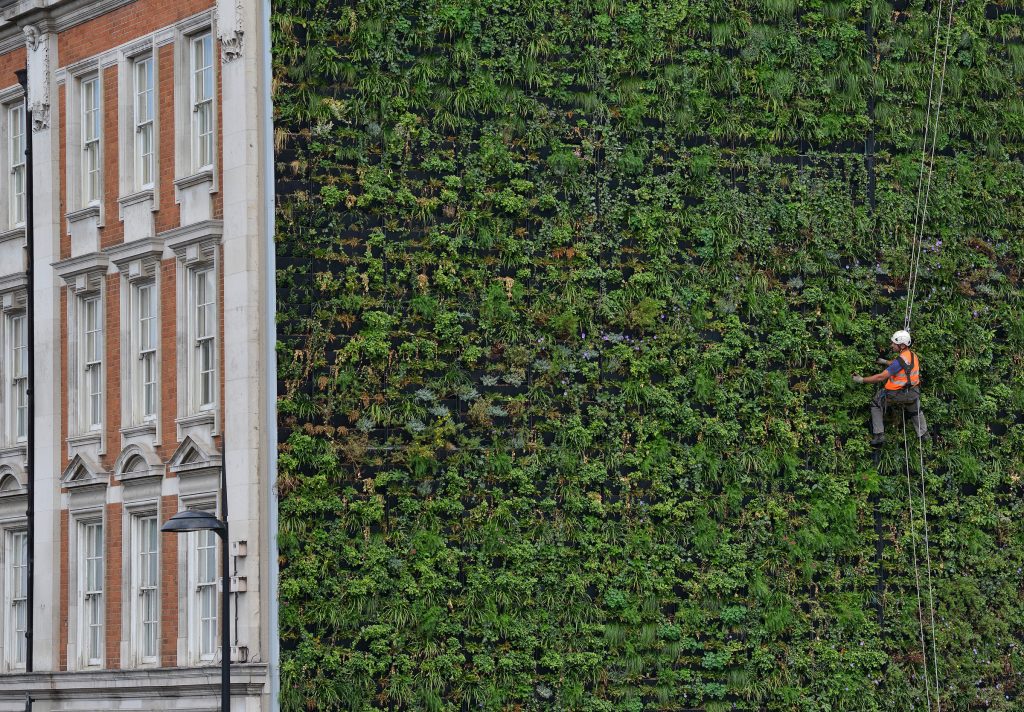 As the COVID-19 lockdown starts to ease we've been thinking more about what we'd like a post-COVID-19 world to look like, and what we can do about it. So, we've created a manifesto – a series of things that we, and all of us, can influence in some way. Our first two posts grabbed a lot of attention and we've been pleased to be involved subsequently in discussions on 'building back better', so a bit of a gap since the last post whilst we've been busy. Here's our third instalment.
Go green, do it fast, do it at large scale, and do it now.
We need to make our towns and cities greener, with the long-term aspiration to move towards biophilic urban areas as the norm. At the time of writing this the rain has just stopped hammering down after weeks of sunshine, and there's news of flash floods with homes and businesses flooded. We can't stop flooding, but we can do lots to combat it, and much more besides, by incorporating more of what's referred to as Green Infrastructure into our urban areas.
Green Infrastructure (or GI) is the use of nature to provide what's called multiple ecosystem services – not just looking nice, but providing us with services. We all know that greenery provides us with air to breathe or things to eat, but it also does all sorts of other things.
There are plants that will absorb the most nasty particulates that are pumped out by traffic; trees and shrubs can absorb noise pollution; the right plants can filter and clean water that runs through their root systems; planting can absorb water run-off and also hold water before it reaches drains to reduce the risks of flash flooding ('sponge cities'); greenery provides habitat for animals and pollinators in urban areas. It also provides better solutions for traffic calming measures – green islands instead of concrete filled ones – and place-making more generally.
With sufficient coverage, GI can also cool buildings and also cities – heat maps show the marked cooling effects that GI can provide, altering micro-climates and tackling the urban heat island effect. Green roofing and green walls are increasingly common sights in bigger cities, but there's no reason why they can't be in smaller towns and cities too. In our home town, we're part of the Regeneration Swansea partnership, which allocates Welsh Government funds for developments – the partnership has made GI a key element to seek from development projects when they apply for funding.
What's more, GI saves us all money by clearing up some of the mess we make through pollution, reducing the need for running air conditioners in buildings, absorbing water to reduce flooding effects and more. Frequently the easy (and rather lazy) argument against, is 'who's going to maintain it?'. But that ignores the fact that in the longer-run we will save money as a society doing this, with a long-term net-gain – flooding costs a fortune to resolve, so does cleaning polluted water, so does healthcare (all of these massively more so than maintaining some trees and shrubs).
Added to that, part of the COVID19 recovery is going to involve green economy – doing this also creates more opportunities for people to supply and maintain GI.
It's good for business more generally too – greener places are more pleasant to visit and to linger in, which means more footfall and more business. Think of the best outdoor (and perhaps increasingly indoor too) places you've ever seen – our guess is that they were pretty green.
But above all, it's just good for us as human beings – in times past the idea that greenery is good for our wellbeing may have been considered a little fluffy. No longer – there is clear medical evidence that it has significant wellbeing as well as physical effects – looking at greenery has been proven to reduce blood pressure for example. A GP famously wrote a prescription some years back to 'go for a walk' – why? Because if it was written on a prescription the patient was more likely to do it – and it wasn't just for physical exercise, it was to reduce stress levels and improve wellbeing. That it's good for us shouldn't be a surprise. We didn't evolve surrounded by concrete and tarmac – we're not designed for this grey, hard habitat we've created for ourselves. We should be taking active steps to change it.
Finally, if we don't start doing things to keep pollinators alive, then all this is academic as we're not going to last very long as a species without them – GI is good for that too by providing habitat.
For any significant new development or piece of engineering we should insist that it includes greenery – the onus should be on developers and engineers to have to very strongly justify why they AREN'T incorporating it, otherwise it should be expected as the default position.
The good news is that this has aready started happening. In Grangetown in Cardiff, an initiative led by the Council's drainage engineer, working in partnership with Welsh Government and Natural Resources Wales, has created an excellent project ('Greener Grangetown') – the video link below gives the rationale and you can see a detailed case study here. The Welsh Government also now requires new developments to incorporate Sustainable Urban Drainage Systems (SUDS).
Welsh Government has also set up a Green Infrastructure fund, which we were very happy to be involved with in a small way, facilitating workshops for local authority officers in late 2019 – the first projects funded by that scheme should start happening soon.
Working in partnership with Natural Resources Wales, the local authority in our home county of Swansea already has a city centre Green Infrastructure Strategy in place, and is in the process of developing a county-wide one – both of which we were also very pleased to assist with, working alongside the Green Infrastructure Consultancy, running consultative workshops.
Often with Green Infrastructure it's easy to feel that it's all big, expensive stuff and beyond our power as individuals. But there are small things that everyone can do. Back in late 2019, on a similarly very rainy day, we brought John Little to Swansea for one of our 51.6 events hosted at the National Waterfront Museum and sponsored by Natural Resources Wales. John talked about how we can all do little things to make the places where we live more habitable.
For our part, we're continuing to work with NRW and others to incorporate green infrastructure large and small, and we're working it into all of our proposals for urban areas.
But everyone can contribute: remember that your garden, if you're lucky enough to have one, is part of the green infrastructure of the town/city and you have control over that – avoid covering your lawn with fake grass or turning too much outdoor space into hard standing, and don't mow some areas to encourage wildflowers and pollinators; make bee hotels (there are lots of types of bees – you won't need a bee-keeper kit to do it!); grow your own fruit and veg.
Going wider, there's no reason why you can't influence public space in your community: wildflowers on grass verges; raised beds and planters (in Todmorden they've created a growing culture – see Incredible Edible Todmorden for more); small rain gardens – all sorts are doable. If you're in an area where there are communal bin stores/bike racks/bus stops, lobby for green roofed versions (they're not hugely expensive); disconnect down-pipes and route them into small rain gardens; and lobby hard to ensure that native trees in your local area aren't cut down unless absolutely necessary.
Greening our cities isn't a nice to have – it's a must have, and we have to start demanding more for the places we live in, whilst at the same time taking our own actions to make it happen at smaller scale.