Celebrating 20 years of the Living Wage Movement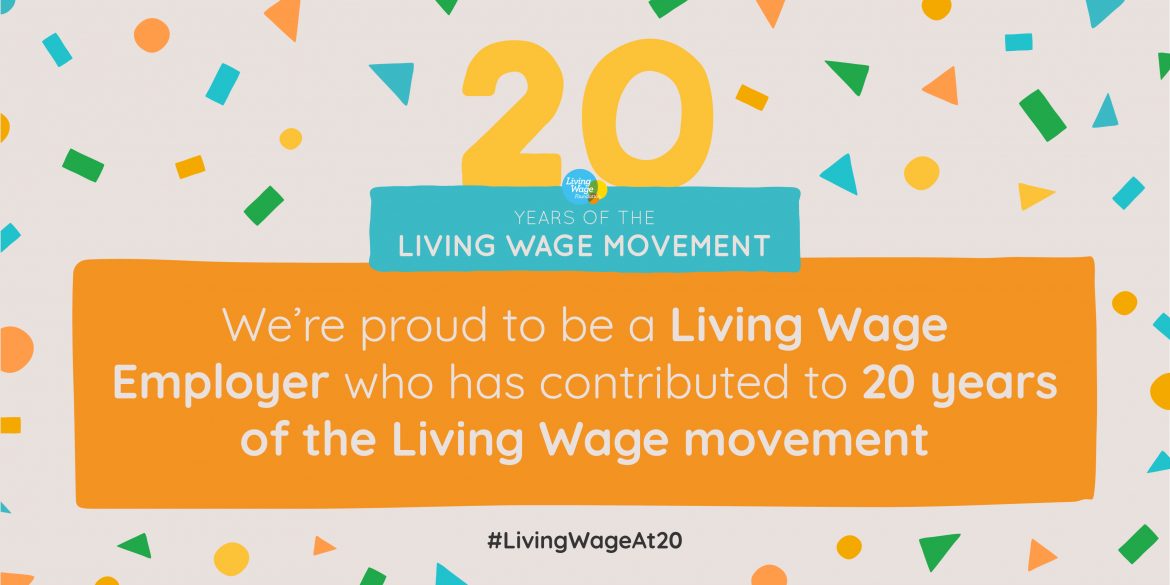 Written by Polly Bushby, Marketing and Event intern at Urban Foundry
As a recent graduate of Swansea University, I feel now is an important time for businesses to meet the real cost of living and provide stability for their employees. I think this makes a huge positive impact on productivity and staff wellbeing too. This is one of the reasons the internship at Urban Foundry appealed to me as it pays the Living Wage and means I can support myself throughout my time here. But not every business offers this, and many of my fellow graduates are facing uncertainty.
Interestingly, it's the 20th anniversary of the Living Wage Movement. As a celebration, I am going to be looking back at the journey of the Living Wage Foundation and the amazing contributions to society they have enabled by encouraging over 8,000 employers to take responsibility and ensure all staff earn the Real Living Wage. By doing so they have put 1.5 billion pounds back into the pockets of low paid workers and lifted 260,000 people out of in-work poverty.
Their story
20 years ago, in London, there was a meeting to discuss issues affecting the community – time and time again low pay kept coming up. From this, a movement was created to call on major employers in the capital to pay their staff a London Living Wage.
10 years on, the movement went national, the first UK Living Wage rate was launched, and the Living Wage Foundation was born to recognise and celebrate the businesses who opted to pay more than the Government minimum, which often did not cover the cost of living.
Some stats about how the Living Wage benefits businesses:
93% of university graduates want to work for a Living Wage Employer
93% of the Living Wage network say it has benefitted their business
90% of consumers agreed that pay should reflect living costs
85% of Living Wage employers said it has enhanced their reputation as an employer
Effects of the pandemic
The pandemic highlighted how crucial low paid workers are, yet ironically the poorest people were hit the hardest. 2 out of 3 of those earning below the Living Wage seeing their pay drop with devasting effects, leading to more than a quarter of people paid under the Living Wage having to regularly skip meals and nearly half saying it had a negative impact on their anxiety levels. Despite Covid showing us how much society needs these workers, 5.5 million are still not earning the living wage.
Now
The Living Wage Foundation now has over 8,000 accredited employers, with over 200 new employers committed to paying the Real Living Wage since March, despite the pandemic's effect on business, showing how it's not only the right thing to do, but achievable and good for business!
The future
There is still a long way to go in helping low paid workers. Therefore, the Living Wage Foundation is looking at new methods to support them. This includes their Living Hours Programme, providing workers with stable and guaranteed work hours to combat the uncertainty of low paid workers' incomes. They are now starting to look at Living Pensions and a Global Living Wage to encourage other countries to adopt similar practices and spread what we have learnt.
You can find out more about the Living Wage Foundation at: